9 of the best spa hotels in Wales for a relaxing break in 2022
Welsh travel writer Portia Jones picks the best spa hotels in Wales with infinity pools, relaxation rooms, sea view rooms and more...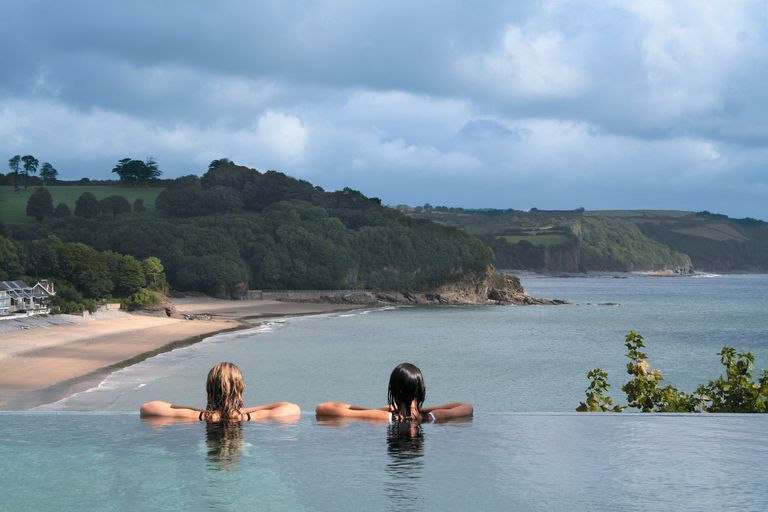 (Image credit: St Brides hotel)
The best spa hotels in Wales feature exceptional facilities, top treatments and stunning views with a superb collection of luxury hotels to choose from for an indulgent break.
What better way to de-stress and unwind than with a wellness weekend in the blissful setting of Wales. Whether you fancy a full body massage, rejuvenating scrub or soothing facial, you'll find a range of holistic and bespoke treatments at some of the best spa breaks in the UK in hotels located in Wales.
In this guide, you'll find our edit of spa hotels suited to a range of travel styles and budgets, where you can unwind and reboot on a well-deserved UK weekend getaway.
Best spa hotels in Wales to book in 2022
1. voco St. David's, Cardiff
Price per night: From £105
One of Cardiff's flagship hotels, voco St. David's has a commanding position in the marina, overlooking Cardiff's cosmopolitan waterfront area.
If you can drag yourself away from its impressive spa facilities, Cardiff is a city often named as one of the UK's best staycation destinations and the hotel is conventionally located near restaurants, cafes, cycle paths and the world-class Wales Millennium Centre – known for its remarkable architecture and shows.
Reflecting its ocean surroundings, the hotel has subtle nautical touches alongside upscale décor. Casual dining and classic dishes can be found in their on-site Admiral restaurant and wellness can be sought out in their gym, indoor pool and luxurious spa facilities.
What can guests expect?
Hotel guests enjoy complimentary access to the hotel's boutique Marine spa that includes an indoor pool with a warming water corridor, sauna and steam rooms, bubbly spa pools and relaxing water beds.
Additional Holistic face and body treatments can be booked and paid for in advance and utilise high-quality products including ishga and La Rue Verte Skincare.
The hotel also offers a range of wellness packages on offer to suit a range of budgets and treatment preferences. One of the more popular packages is the hotel's Signature Spa comprising a pool session and express treatments, followed by afternoon tea or a two-course meal.
Choose from four room types from standard to suites with big ocean views, crisp linens, Antipodes toiletries and fluffy towels.
2. Hilton Garden Inn, Snowdonia
Price per night: From £109
Hilton's newest offering in Wales is also home to the distinctive Wave Garden Spa, a £1.25m 650 square metre destination spa with premium facilities.
It's located on the grounds of the innovative Adventure Parc Snowdonia – an award-winning adventure resort and man-made surf lagoon in the scenic Conwy Valley in Snowdonia - a top destination for nature holidays in the UK.
The sleek 106-bedroom Hilton Garden Inn connects directly to the swanky spa which has both indoor and outdoor areas and thermal pools for guests to relax and admire the epic Snowdonia scenery.
On-site activities here include surfing paddle boarding, climbing and high ropes, so you can switch up between relaxation and adrenaline activities.
What can guests expect?
Simply styled contemporary rooms include all the amenities you might expect of a Hilton property.
Their en-suite rooms come with lagoon views from large floor-to-ceiling windows and family rooms are interconnecting for ease. Guests can also enjoy the spacious on-site restaurant and bar, fitness centre, sensory gardens and spa access.
The truly unique feature of this hotel and spa is the warming outdoor hot whirlpool where you can unwind and watch surfers ride the waves on the purpose-built, freshwater surf lagoon.
Sit back, sip on prosecco and watch the wipeouts and waves being caught by aspiring surfers and pros.
Inside the spa are a modern thermal pool and stylish treatment rooms that offer bookable bespoke treatments that utilise Welsh skincare brand Tribe517.
3. The Metropole, Llandrindod Wells
Price per night: From £125
The charming spa town of Llandrindod Wells is home to the luxurious Victorian-style Metropole hotel and spa, known for its striking forest green exterior and opulent interior style.
This independent hotel is ideally located for exploring the verdant landscapes and dammed reservoirs of the Elan Valley where scenic solace can be found along its peaceful hiking and biking trails. The best time to visit is in June when the weather has started to improve but the school holidays haven't yet begun.
Llandrindod Wells has been welcoming wellness seekers for many years thanks to the discovery of mineral springs in the 18th century that propelled the area from a rural outpost to a fashionable spa town.
Today, visitors can admire Victorian architecture and soak away their worries in the warming pools in the Metropole.
What can guests expect?
Rooms range from luxury tower rooms and superior suites to family and classic rooms, all with plenty of character and quality amenities.
Dining is also offered, with modern British cuisine served at the Radnor and Miles Restaurant, expertly created from locally sourced, seasonal ingredients. Relaxed dining is also offered at Spencer's Bar and Brasserie with evening and lunch menus available.
Their sublime Rock Spa is the standout feature of the Metropole and is available for guest use and packages. Swim lazy lengths in a heated, 18-metre indoor pool and continue your wellness journey with their sauna, whirlpool spa sauna and steam room.
Treatments include soothing massages, scrubs and facials that use natural products where possible to help you feel rejuvenated and relaxed.
4. St Bride's Spa Hotel, Saundersfoot
Price per night: From £210
Unparalleled sea views can be found at award-winning, clifftop St Bride's hotel and spa where you can cast your gaze over Saundersfoot Bay from their amazing swimming pool and elevated rooms.
This privately owned hotel is a few minutes' walk from the beach, allowing for a spot of ocean therapy before indulging in the many spa treatments on offer.
Nearby are the flat, sandy beaches of Saunderfoot and popular seaside town Tenby where boutique shopping, diverse dining and boat trips are plentiful,
What can guests expect?
Bright and airy rooms are thoughtfully styled with hints of coastal chic and feature quality bedding and furnishings. Guests can also get a flavour of Pembrokeshire produce and locally landed fish at their cliff restaurant, with seasonally informed dishes.
The main attraction is the dreamy infinity pool and marine spa offering. Unwind in a full thermal suite that features rock sauna, ice fountain, steam room and marine hydro pool.
Individual treatments featuring marine sourced products can be booked, as well as spa packages. Choose from massages, facials and holistic treatments, expertly delivered by excellent therapists.
5. Lanelay Hall Hotel and Spa, Pontyclun
Price per night: From £120
Georgian architecture contrasts perfectly against luxe design at this boutique spa hotel in Pontyclun.
Lanelay Hall offers an indulgent spa experience in a historic setting and has been transformed from a stone-built, 19th century Manor House – dating back to 1821 – to a hip spa with tropical-inspired décor.
The long and varied history of Lanelay Hall is acknowledged where possible with rooms named after past residents.
Guests can dine in the Sir Christopher Cole Restaurant, named after a high-ranking naval officer who served in several conflicts including the American Revolutionary War, the French Revolutionary War and the Napoleonic Wars.
What can guests expect?
19 individually styled rooms with antique furnishings blended with bold, geometric design provide a boutique stay with touches of comfort and luxury.
Expect gigantic beds, cosy robes and posh toiletries and an impressive freestanding bath in the master suite.
By day, hotel guests and day visitors can enjoy the tRiBe Spa with a new Spa Garden that features a free-flowing waterfall, outdoor vitality hydrotherapy pool and relaxation pods where you can sip on a glass of fizz in a tranquil spa setting.
Treatments include a special 'mum to be' full body massage, cleansing ishga, Men's facial and hot poultices massage to soothe those aching limbs.
Post-spa refreshment can be found in the Terry Edwards Bar, where whimsical interiors, relaxed dining and knowledgeable staff await.
Here, you can feast on a substantial afternoon tea tower, complete with finger sandwiches, crumbly scones and seasonal sweet treats.
6. Park Plaza, Cardiff
Price per night: From £138
Conveniently located in the centre of Cardiff, the deluxe 129 room Park Plaza Hotel is within walking distance of Cardiff's shops, restaurants and attractions.
It's a popular place for business travellers and spa seekers looking for wellness in an urban setting, allowing both spa and shopping opportunities within one afternoon.
The hotel's rather plain concert façade belies its bright and contemporary interior, with chic furnishings, lofty ceilings and an array of modern art on display.
What can guests expect?
Spacious rooms and simply designed with smart furnishings, Egyptian cotton sheets and touches of abstract art, adding splashes of colour to lift the space.
For a city hotel, facilities at their Laguna Spa are surprisingly extensive and feature a UV filtered 20m indoor pool, two-storey gym, steam room and tranquil treatment rooms.
Luxurious treatments and packages can be booked in advance for a spot of self-care during your stay. detox Seaweed Wraps, de-stressing massages and cleansing facials form part of the boutique spa offering at Laguna.
Relaxed dining can be found in the Laguna restaurant and bar area, where handcrafted cocktails can be sipped in sleek, individual booths. Bar snacks and drinks can also be enjoyed on the leafy outdoor terrace offers a moment of solitude away from city crowds.
Afternoon tea is particularly popular here and is offered as part of the hotels' spa packages. Feast on finger sandwiches, Welsh cakes and buttermilk scones with a traditional tea, or upgrade to a boozy Hendrick's G and Tea, with cucumber-infused gin, served in vintage teapots.
7. Cliff Hotel and Spa, Cardigan
Price per night: From £99
Perched on the dramatic Cardigan Bay coast, this clifftop spa offers panoramic ocean views and indulgent treatments.
This 76-room hotel has undergone a large refurbishment of late and now has a new Bar & Lounge, with plans to expand its first-class facilities again in the future.
As well as picturesque views, the Cliff hotel is also well-positioned to explore the sections of the long-distance Wales Coast Path and also the nearby River Teifi trails in Ceredigion.
Dolphins and Atlantic grey seals are regularly spotted in this area, so remember to bring your camera for those coveted wildlife snaps.
What can guests expect?
Minimalist vibes and contemporary design are found throughout, with hints of marine chic and locally sourced artwork also on display. Rooms are spacious with muted tones and modern amenities, including a pod coffee machine dispensing creamy espressos.
There are 12 different types of rooms to choose from, that cater to a range of budgets. Many rooms feature coastal vistas and private balconies for idyllic sunset views. Guests who are feeling flash can also upgrade to rooms with a private hot tub, for the ultimate indulgence.
The highlight of the hotel, of course, is the unique spa area that is submerged underground with a bubbling hot tub, steam room sauna and hydrotherapy pool available for guest use.
Spa packages are available and include a light lunch and a selection of treatments from signature massages and scrubs to mini facials.
Oceanview dining is in Carreg at the Cliff with lunch and dinner menus featuring classic dishes with subtle Welsh twists found in dishes such as the Lamb & Rarebit BonBon and local Pembrokeshire Sirloin.
8. Quay Hotel & Spa, Conwy
Price per night: From £90
This destination spa has striking views of the majestic Conwy castle and Estuary and is conveniently located near the Welsh towns of Conwy and Llandudno should you fancy exploring.
Over £1 million has been sunk into revamping and updating the Quay Hotel & Spa, with a focus on guest experience and wellbeing.
Nearby in Deganwy, you'll find bracing coastal walks, tea shops, a shingle and sand beach and the ruins of a stone-built fortress.
What can guests expect?
The hotel's 77 bedrooms range from classic rooms right through to suites and all feature coastal colours and hints of maritime design. Several rooms offer balconies and private outdoor space for a touch of additional luxury and space.
Extensive leisure facilities are available for guest use and luxurious pampering can be found at the on-site Marina Spa.
Their ambient relaxation rooms overlook the pretty Deganwy Marina and ESPA products are used in a range of treatments and seasonal packages. Indulge in a full-body salt & oil scrub, personalised facial or a revitalising back, neck and shoulder massage.
The best of Welsh produce can be found at the hotel's Ebb and Flow Restaurant, serving contemporary dishes packed with responsibly sourced meats and seafood prepared by their award-winning chef.
Their Wales inspired menu takes full advantage of the coastal bounty of the River Conwy, home to mussels and mackerel and both are regularly incorporated into delicious dishes.
9. Celtic Manor Resort, Newport
Price per night: From £104
Newport's landmark, five-star resort sits on 200 acres of parklands and comprises luxurious hotels, self-catering lodges, two spas, multiple restaurants championship golf courses and a newly constructed convention centre.
Located just off the M4, the resort is best known for playing host to the 38th Ryder Cup in 2010, on a Twenty Ten course, specifically designed for golf's most prestigious event.
Combine golfing and wellness at this unique resort and choose the hotel that best suits your style and budget.
What can guests expect?
The Resort hotel is one of the main hotels on offer and underwent a multi-million-pound overhaul in 2016. While its imposing concrete exterior isn't exactly inspiring when viewed from the M4, the inside is a little more luxurious with an expansive atrium, touches of opulence and fine dining.
Rooms range in size and price and feature colourful furnishings, Elemis products and large beds for a restful night.
Suites offer an upgraded experience with a separate lounge and dining area, private balcony as well as added luxuries like a Nespresso coffee machine and complimentary wine and Welsh cakes on arrival.
Wellness can be sought out at their popular Forum Spa, which was voted Best UK Hotel Spa in 2011.
This large spa offering consists of 16 treatment rooms, hot tubs, sauna plunge pools and a relaxation pool for guests plus a range of saunas, steam rooms, hot tubs, plunge pools and a relaxation pool overlooking the rooftop garden.
Treatments and packages can be booked in advance and offer a blissful escape from the busy resort. Nourishing wraps, invigorating facials and a herbal steam temple are on offer to guests and day visitors seeking relaxation and expert therapies.
For more brilliant spa recommendations by our travel experts, see our guides to the best spa hotels in London and best spa hotels in Scotland.
Portia Jones is a freelance travel journalist, podcaster and host of the Travel Goals Podcast (opens in new tab). She specialises in adventure travel, destination guides and solo travel guides and has travelled, volunteered and worked around the world for almost 20 years. She writes for a wide range of newspapers, magazines and websites and also is a regular travel contributor for BBC Radio.
When she's not writing or podcasting Portia can be found hiking, swimming, kayaking, or drinking endless cups of coffee in hipster cafes.