The best places to visit in September in the USA, Europe and beyond
With fall beginning to set in, the best places to visit in September make the most of the waning summer sun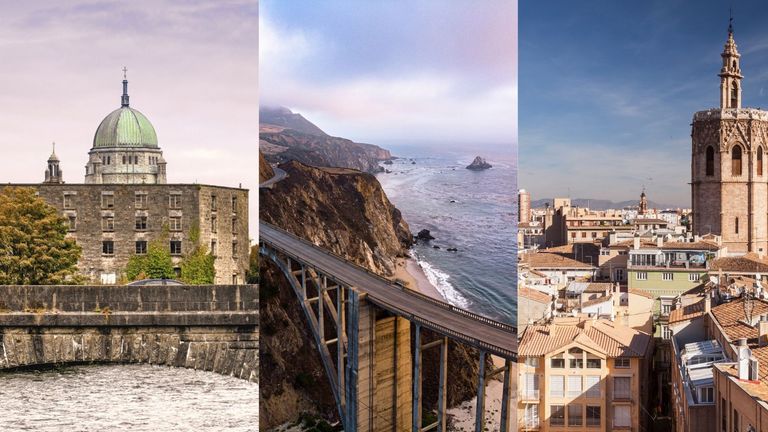 (Image credit: Getty Images)
Contributions from
From beach towns to romantic cities, the best places to visit in September boast thinning crowds and a more relaxed atmosphere. Though the intense summer heat has started to subside, September still sees warm and lengthy days in destinations across both hemispheres.
Extend your summer vacation with one last beach vacation on the golden sands of San Diego, explore the depths of Maine's backcountry as the leaves transform, or immerse yourself in the complex history of the Incan Empire on a city break. However you choose to spend the last of those languid summer days, September's pleasant weather and chance to nab some great holiday deals give you even more reason to discover one of these destinations.
Here are our favorite picks, from the best places to visit in Europe to lush, tropical across the globe.
Best places to visit in September in the USA
San Diego, California
Best September holiday for: Beaches and culture
Average high temperature in September: 25°C
With a pleasant year-round climate, this city on California's Pacific Coast is best known for its expansive parks and sandy beaches. For a day in the sun, head to Mission Beach where there are plenty of golden sands and lively waterfront bars. Indulge in a day of fun at Belmont Park, a beachfront amusement park that remains one of Mission Beach's main attractions, and ride the iconic 793-meter long Giant Dipper roller coaster. Those with a penchant for watersports can enjoy kayaking, paddle boarding, and surfing at the other numerous beaches.
Dive into the city's culture and spend time at the 1200-acre Balboa Park, a must on any visit to San Diego. Aside from a plethora of walking paths and immaculately landscaped gardens, this urban green space is also home to over a dozen museums, art venues, concert areas, and the renowned San Diego Zoo.
Top tip: Due to the massive size of Balboa park, there is a free tram that shuttles visitors within close proximity to major attractions. It runs daily with extended summer hours of 9 AM to 8 PM.
See the latest official tourism travel advice for the USA here (opens in new tab).
Bar Harbor, Maine
Best September holiday for: Reveling in natural landscapes
Average high temperature in September: 20°C
Situated along Maine's glittering Frenchman Bay, the small town of Bar Harbor is a popular launching point for visitors to Acadia National Park. Sail the sparkling waters of Frenchman Bay, and walk along the Bar Harbor Pier for a stunning view.
The town itself on Mount Desert Island boasts plenty of charming historic homes, independent boutiques, and kitsch souvenir shops. September is also when its trees transform into fiery reds, oranges, and yellows, making its landscapes more enchanting.
Those heading to Acadia National Park can expect lush forests and craggy coastlines, as well as scenic hikes and a spectacular drive to the top of the 466-meter Cadillac Mountain for stunning views over Acadia National Park. The picturesque landscapes that make up this 47,000-acre park on the Atlantic coast are a playground for those who want to bike, hike, swim or fish.
Top tip: A national parks pass is required to visit Acadia National Park, which can be purchased online to save time.
See the latest official tourism travel advice for the USA here (opens in new tab).
Big Sur, California
Best September holiday for: Playing outdoors
Average high temperature in September: 25°C
Spanning some 145 kilometers between Monterey Bay and San Simeon on the rugged California coast, Big Sur is characterized by dramatic seaside cliffs, picturesque beaches, and plummeting waterfalls.
September sees warm and dry weather, which makes for an epic US road trip to experience this scenic coast and its roadside attractions. You can be fairly autonomous if opt to explore the area via car, making it the perfect solo holiday destination. Drive the twists and turns on the Pacific Coast Highway, the main road that runs through California's central coast.
Aside from the independent art galleries and picturesque eateries along the highway, make time for attractions like Bixby Bridge and the 700-acre Limekiln State Park. With picnic areas and a plethora of hiking trails, you can delight in the sweeping coastal views. Catch a wave at Sand Dollar Beach, and all throughout your drive, keep an eye out for migrating blue whales and humpback whales, as September marks the end of whale watching season here.
Top tip: Budget at least two days to enjoy the attractions of Big Sur.
See the latest official tourism travel advice for the USA here (opens in new tab).
Oahu, Hawaii
Best September holiday for: Relaxing on the beach
Average high temperature in September: 27°C
Oahu is the third largest of the Hawaiian Islands, but it's also arguably the most popular, with the summer months seeing tourist hot spots like Waikiki Beach in the capital Honolulu teeming with sun worshippers eager to soak in its vibrant island atmosphere. September not only sees the scorching temperatures cool but also offers a calmer, less crowded, environment for visitors.
The days are still long, with an average of nine hours of sunshine, and warm enough to enjoy water sports, swimming, and surfing, with balmy evenings that allow for plenty of alfresco dining opportunities, as well as sampling the island's many waterfront cocktail bars.
Due to their huge popularity, the Aloha Festivals now take place over a two-month period, starting in early September (10 September in 2022) and carrying on until mid-October. During the festivals, expect to see colorful processions with intricate floats and traditional costumes take over the islands' streets in a celebration of Hawaiian culture.
Top tip: To experience a quieter, more rural side of Hawaii, visit the North Shore of Oahu where you'll find unspoiled coves, clear blue waters, and breathtaking hikes.
See the latest official tourism travel advice for Hawaii here (opens in new tab).
Best places to visit in September in Europe
Munich, Germany
Best September holiday for: Drinking steins full of beer
Average high temperature in September: 19°C
For beer lovers and enthusiastic partygoers, Munich in September is an obvious destination. Celebrated for 16 to 18 days at the end of September each year, Oktoberfest pulls in some six million visitors, all of who are eager to experience its beer halls, dance to lively polka and folk music, and gorge on traditional cuisine. Adorn yourself in traditional Bavarian dress by sporting lederhosen or dirndl.
Aside from being the site of Oktoberfest, Germany's third-largest city is also home to a host of historic palaces and cathedrals. Wander Marienplatz, Munich's central square, and explore New City Hall and Old Town Hall. Visitors can watch figures on the Glockenspiel dance three times daily in the tower of the New City Hall.
To take a break from the sightseeing and beer drinking, visit the 900-acre English Garden, and walk, jog, or cycle along its network of pathways that meander along the winding streams and around the artificial lake.
Top tip: Bring cash with you to the beer tents. Though there's usually an ATM in each tent, lines can be long. Expect beers to be around 12 EUR per litre.
See the latest official tourism travel advice for Germany here (opens in new tab).
Verona, Italy
Best September holiday for: Celebrating love
Average high temperature in September: 25°C
Tucked between Milan and Venice in northern Italy's Veneto region, the enchanting setting of Verona has long inspired romantic getaways.
Famed for being the setting of Shakespeare's classic, Romeo and Juliet, visitors to the city flock to the tiny balcony of the 14th-century residence that's believed to be Juliet's home. Now, it's a museum dedicated to the literary heroine. Fans of this passionate love story will be delighted to celebrate Juliet's birthday in the city each September 16, when the Juliet Club organizes a host of festivities that include dancing, performances by street artists and musicians as well as film screenings. Immerse yourself in the celebrations by dressing in period costumes and parading across the city with fellow fans, and share a passionate kiss with your loved one beneath Juliet's balcony on this romance-filled day.
While you're there, don't forget to try some traditional Italian dishes (the options are endless, but try tastasal risotto while you're there, made with tastasal, a local salami)
Top tip: The Juliet Club receives plenty of mail from fans who detail their own love stories or ask for relationship advice from Juliet. Fans can also write a letter to Juliet by leaving a note on the Wall of Letters, beneath the covered passageway.
See the latest official tourism travel advice for Italy here (opens in new tab).
Valencia, Spain
Best September holiday for: Gorging on paella
Average high temperature in September: 28°C
Home to historic cathedrals and bullrings, as well as futuristic buildings that house cultural and scientific exhibitions, Valencia at once, exudes old-world charm and modern vibes.
Its charming Old Town boasts lively palm-lined plazas and must-see landmarks like the Central Market, Silk Exchange, and the Santa Catalina Tower. For a more contemporary experience in the city, head to The City of Arts and Sciences and explore the interactive science exhibits along with an oceanarium, IMAX cinema, and planetarium.
As a port city on Spain's southeastern coast, Valencia boasts several beaches, with the golden sands of Malvarrosa Beach not far from the old town. Plan for an early September visit if you're hoping for a beach getaway.
As the birthplace of paella, those who visit Valencia can't leave without sampling this classic Spanish dish. Made with rice, and dressed with saffron, vegetables, chicken, and fresh seafood in a flat round pan, the paella has become a symbol of Valencia.
Indulge in some retail therapy while you're there too, and check out some of the best Spanish clothing brands.
Top tip: Though Spanish is one of two official languages in Valencia, Valencian is the other dominant language in this region, which is a dialect of Catalan.
See the latest official tourism travel advice for Spain here (opens in new tab).
Galway, Ireland
Best September holiday for: Knocking back oysters by the sea
Average high temperature in September: 13.5°C
If you're a fan of oysters, September time in Galway is about to go firmly on the bucket list. This picturesque Irish city offers beautiful scenery throughout the seasons, but September sees the destination really come to life with the arrival of the Galway International Oyster Festival (opens in new tab).
The annual event is always held on the last weekend in September in the center of Galway City and its residents take the occasion very seriously indeed. Since the event launched in 1954, the streets of Galway have welcomed over half a million visitors, who've washed down over three million oysters with champagne and stout, against the scenic backdrop of the Claddagh area, a former fishing village just outside the city walls.
The festival aside, Galway's thriving restaurant scene is reason enough to visit, with neighborhood eateries Loam (a cozy restaurant and wine bar focusing on ingredients native to Western Ireland) and Kai (a pioneer for sustainability in the area serving laid-back, yet delicious, modern cuisine) well deserving of their Michelin stars.
Top tip: Head to the Latin Quarter to experience the cultural heart of the city. It's a hot spot for live music, with buskers on every corner and live music performances that spill out onto the streets.
See the latest official tourism travel advice for Ireland here (opens in new tab).
Best places to visit in September across the world
Montréal, Canada
Best September holiday for: Experiencing Europe in North America
Average high temperature in September: 19°C
As the largest city in Québec province, Montréal is a dynamic and cosmopolitan hub. Wander along the cobblestone streets of Old Montréal, an enclave of trendy hotels, restaurants and hip galleries that have been converted from buildings that date back to the 17th century. The high concentration of historic sites in this area, including the city's crown jewel of Notre Dame Basilica, means that Old Montréal can be easily explored on foot. From there, find your way to the live promenade by the Saint Lawrence River in the Old Port of Montréal.
The best panoramic view of the city can be found atop the 233-meter high Parc du Mont-Royal. As Montréal's favorite urban green space, the manicured grounds provide a tranquil space for visitors to take a break from sightseeing.
Montréal is also home to one of the world's most amazing gardens, Montréal's Botanical Garden, which boasts ten exhibition greenhouses, each filled with a different horticultural collection.
Top tip: From bagels to loaded poutine to breakfast pizzas, Montréal is a city that loves its brunch. Come hungry and visit the ever-popular St-Viateur Bagel and Fairmount Bagel. Don't miss the indulgent breakfast poutine at Fabergé.
See the latest official tourism travel advice for Canada here (opens in new tab).
Cusco, Peru
Best September holiday for: Cultural exploration
Average high temperature in September: 21°C
Peru, home to some of the most spiritual places in the world, is also home to nearly half of the top 10 highest cities in the world, on of which is Cusco. Many use Cusco as a base to visit Macchu Pichu and to witness the layered hues of gold, red, and turquoise of Rainbow Mountain, though the charm of this city high in the Peruvian Andes deserves more time.
Once the capital and center of the Inca Empire, Cusco boasts a rich history and its culture and architecture reflect a mesmerizing blend of Spanish and Incan influences. The ancient Inca site of Sacsayhuaman reveals some of the tension experienced between the Inca forces and the Spanish conquistadors.
Explore Plaza de Armas, the cultural heart of Cusco, and people-watch in the trendy restaurants, bars, and coffee shops that line the square. Wander to the nearby artisan neighborhood of San Blas. Brimming with galleries and cozy boutique shops, this district radiates bohemian vibes.
Top tip: Cusco is nestled at an elevation of 3,399 m. Plan to stay in the city for a minimum of two days to acclimate before embarking on physically strenuous activity. Accommodation options range from hostels to some of the most luxurious hotels in the world.
See the latest official tourism travel advice for Peru here (opens in new tab).
Hwange National Park, Zimbabwe
Best September holiday for: Wildlife viewing and outdoor adventures
Average high temperature in September: 30°C
At a sprawling 14,651 square km, Hwange National Park is Zimbabwe's largest wildlife reserve and is home to buffalo, elephants, giraffes, wildebeest and impala. Those eager to embark on a safari vacation without the crowds should consider Zimbabwe.
Though visitors to this park can spot wildlife year-round, September is prime wildlife watching season, as it's part of Zimbabwe's dry season. Its clear blue skies and minimal mosquitoes make for excellent conditions, and the wildlife tends to congregate at the park's riverways and watering holes this time of year.
Stay at the park's exclusive camps and lodges so you can participate in game drives and walking safaris by day. Venture out by night for the opportunity to see civet cats and bat-eared foxes. Budget time to view the stunning Victoria Falls nearby, and hike through the region's rainforests or go white water rafting on the Zambezi River below the Victoria Falls.
Top tip: Staying at the park's private lodges will allow you to participate in nighttime safaris.
See the latest official tourism travel advice for Zimbabwe here (opens in new tab).
Tangier, Morocco
Best September holiday for: Exploring the souks
Average high temperature in September: 23°C
The souks of Morroco are some of the biggest and most vibrant in the world, with the vast open-air markets attracting visitors from across the globe. But with temperatures reaching highs of 37°C in the hottest summer months, the environment can be stifling. A September visit promises a cooler climate and fewer crowds, with temperatures dipping below 25°C.
In the low season, Tangier in northern Morocco offers a calmer alternative to hectic Marrakesh or claustrophobic Fez, with calming coastal scenes and an ocean breeze. For jazz fans, the Tanjazz Festival (opens in new tab) is an annual event that takes place in September and attracts jazz artists from all over the world, as well as showcasing local talent.
A port town on the cusp of Europe and Africa, Tangier offers a unique blend of cultural influences, spanning everything from its culinary offering to its ornate architecture. While it's a city that's often overlooked in favor of its more famous neighbors, there's plenty to discover in this artistic and bustling city.
Top tip: While the beaches closer to the city aren't as picturesque, there are some beautiful seascapes within reach. consider Try Achakkar Beach (about 25 minutes away in a taxi), which is home to some incredible rock formations called the Hercules Caves.
See the latest official tourism travel advice for Morrocco here (opens in new tab).
Vivian is a Vancouver-based freelance writer who has worked for Culture Trip and Fodor's Travel as well as Woman&Home. She covers a wide range of topics, ranging from travel and outdoor adventure, to food and mental health and wellness. She's a curious wanderer with a thirst for adventure, and when she's not writing, can likely be found lazing by a lake, hiking the forested trails of beautiful British Columbia, or on a mission for the next best donut.
With contributions from